Visible learning is an incredible academic framework that helps our students succeed. It's also a great way of enhancing our students' literacy. After all, literacy happens in more places than just our English classrooms. It's important to practice literacy in all content areas. students who are highly literate perform better throughout their academic careers than students who aren't.
What is Visible Learning?
Visible learning is a term coined by John Hattie in his 2009 meta-study, Visible Learning. In his study, Hattie compared the effect sizes of all sorts of strategies, aspects, and techniques educators used to influence learning.
He found out that most things in education work. However, what's more important is finding out what strategies work best. Visible learning, therefore, focuses on highlighting the most effective strategies, techniques, and more based on evidence-based research from millions of students and hundreds of meta-analyses.
Why is improving literacy important?
Literacy is the bedrock to our students' learning. Students who have issues with literacy often face additional difficulties in areas of science and math. Literacy is also multidisciplinary and should not solely be taught in an ELAR classroom.
Here are three visible learning strategies you can use, regardless of your content area, to improve literacy.
Create a project checklist.
Use an anticipation guide.
Use a self-questioning guide.
1. Create a Project Checklist
A great way to improve students' literacy through visible learning is by setting up specific lesson plans and success criteria. When students have access to the specifics of what they're supposed to be able to do or complete to prove they've learned something, they're able to prepare themselves for your lessons.

A simple way to craft success criteria for class projects is by providing a project checklist.



Project checklists can be used for any school project you have. To start, list all the items your students will need to accomplish to complete the project. Then, have your students predict when they'll complete these separate parts by. By using a projected finish date, students start setting attainable goals for themselves and make big projects less intimidating. Finally, add a "completed" column where they can mark off what they've accomplished.
2. Use an Anticipation Guide
As any great teacher knows, students come to many of your lessons with a bunch of prior information. However, this information isn't always correct. Anticipation Guides are another visible learning tool that help you check what your students know, and don't know, before you start a lesson.
To start, create 5 broad statements about what they're learning. Make sure some are true while others are false. Before the lesson or reading, students identify which statements are true and which are false. Then they explain why they chose true or false.
After reading you repeat this process. Students will be able to see which answers have changed and why. As a bonus, you'll be able to track your students' understanding throughout the process, making sure you're fully explaining confusing subjects.
3. Use a Self-Questioning Guide
Self-Questioning guides are great ways for your students to take charge of their own learning. In a self-questioning guide, students write down questions they expect to be answered based on a specific text or outline of a lesson.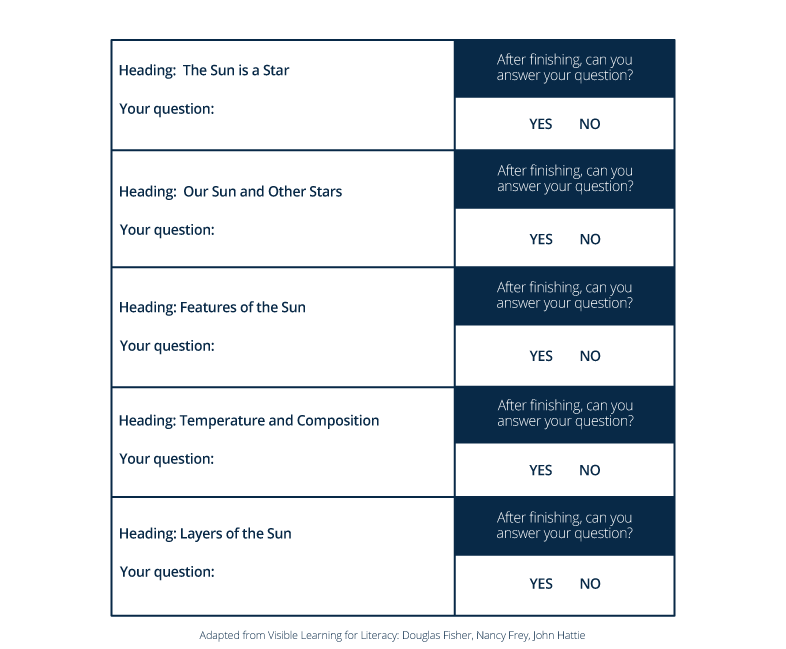 First, have your students list the article or lesson title. Next, have them pick out the sub-headings or sections of the article or lesson. In each section your students will write a question they expect to be answered. After finishing that section they'll then check whether or not that question has been answered.
This helps students think critically about what they're going to learn before they learn it. Students are then actively reading for answers rather than passively reading to finish. Additionally students are able to check their own understanding. If they can't answer a question, is that because the article didn't include it or because they didn't understand it?
Learn more great instructional strategies from our Strategic Instruction team.
Kim Watts spent 21 years teaching middle school in both inner-city and affluent schools. During her time in the classroom, Kim taught English/Language Arts, brought AVID to her campus as a certified AVID teacher, and taught Capturing Kids' Hearts Teen Leadership. Kim was the SIM Coordinator for her campus' Literacy Leadership Team, helping them to implement a school-wide approach to improving literacy using the Strategic Instruction Model.