Are your eligible students benefitting from the use of accommodations that provide access to the curriculum? You might be simplifying difficult vocabulary, clarifying with definitions or synonyms, rewording complex text, introducing material prior to reading it, presenting problems one step at a time, or providing visual aids. These supports can appropriately support your instruction and scaffold your students' learning.
However, you might be wondering if your students can use these supports on the STAAR assessments. Yes! These accommodations, along with others, are available to eligible students as Content and Language Supports only on STAAR Online English and Spanish.
Here are 4 supports that are only available on STAAR online:
Text-to-speech
Rollovers & popups
A pre-read section
Step by step math problems
Text-to-speech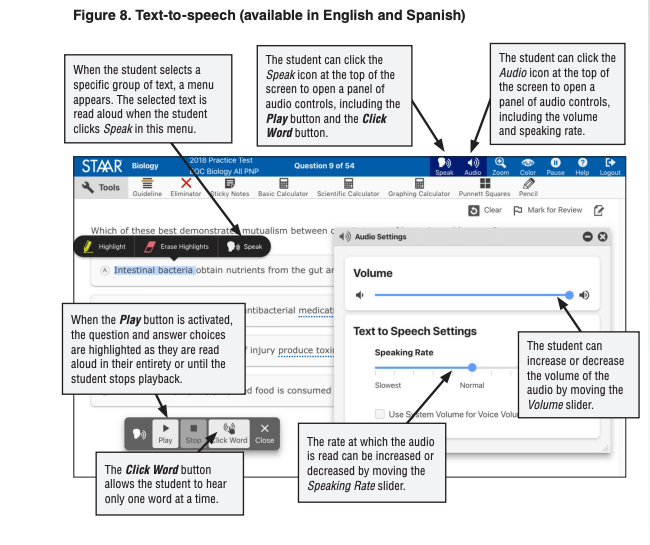 Text-to-speech is available in English and Spanish on STAAR online. The text can be read aloud if students are also using text-to-speech as an embedded support
Rollovers & popups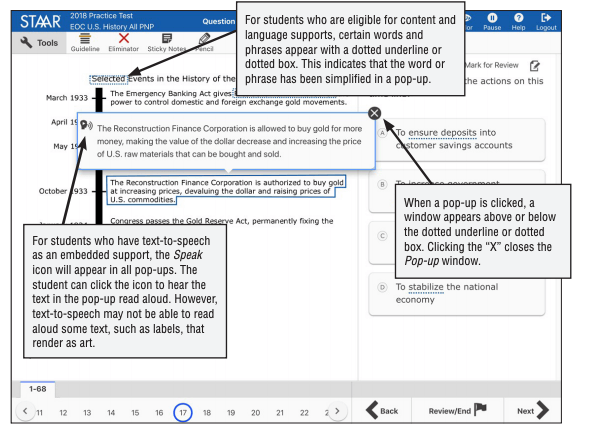 Throughout STAAR online you'll see various examples of rollovers and pop-ups that, when activated by your students, provide reworded texts, allow the section to be read out loud, give bulleted breakdowns of math problems, and more.
A pre-read section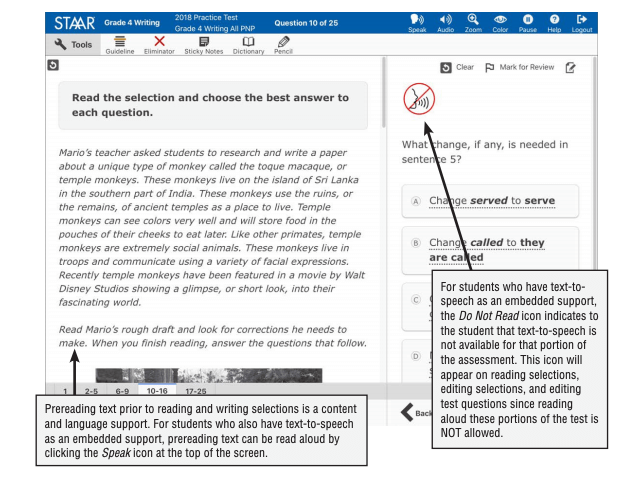 Pre read sections introduce a reading passage for your students. This text can also be read aloud if students are using text-to-speech as an embedded support.
Step by Step Math Problems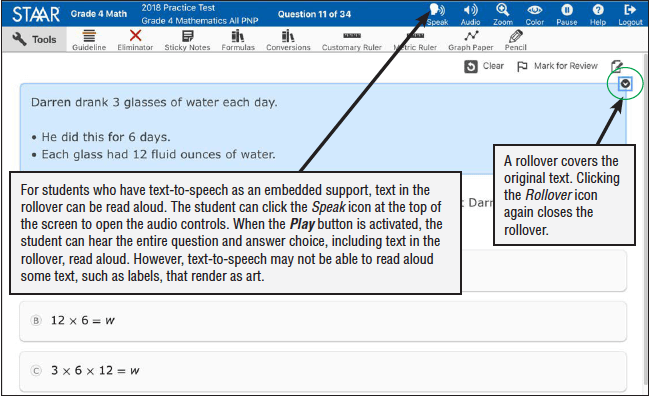 Throughout the STAAR Online rollovers can be activated to change the paragraph format of a math question to bullet points. This helps students see each step of the problem.
For more information and examples of embedded support, please consult the Educator Guide to Accessibility within the STAAR Program.
Want more info about STAAR Online and STAAR supports?
Our specialist can present to your teachers or school staff.

Kim West is a member of the Progress in the General Curriculum group within the Special Education Team at the Education Service Center Region 13. She believes that all people have strengths and that educators desire to help others discover, encourage, and develop these strengths in myriad ways. She is dedicated to supporting teachers as they create inclusive classrooms and learning opportunities for students of all abilities.