Restorative practices (RP) is a framework that is grounded in the values of showing respect, taking responsibility, and strengthening relationships.
Ted Wachtel, the founder of the International Institute for Restorative Practices, says that human beings are happier, more productive, and more likely to make positive changes in their behavior when those in positions of authority do things With them rather than To them or For them. This is the core philosophy of restorative practices.
One of the benefits of RP is that it can easily integrate with existing Multi-Tiered System of Support (MTSS) practices. Let's dive into how you can bring the two frameworks together.
Collecting Data as a Starting Point
One of the biggest challenges with restorative practices is proper implementation. Many districts and schools are overly focused on reducing suspension rates and see RP as a means to an end. Some schools see it solely as a behavior management practice and don't implement it as a whole-school preventative framework. Students must be aware of shared values and behavioral expectations that align with those values.
An essential component of any MTSS model is using data to guide decision-making at the school and individual student levels.
Schools interested in using RP should actively collect student disciplinary and behavior incident data to document what disciplinary and behavior management practices are currently being used with students. This can be a great starting point to help identify whether there are issues with disproportionality and keep track of any changes in behavior incidents over time.
Examples of Restorative Practices and MTSS Tiers
You can build restorative practices into all behavior and social-emotional learning tier levels of support. Tier 1 approaches can include class-wide techniques that help teach and promote shared values, inclusiveness, a sense of belonging, and relationships among students and teachers.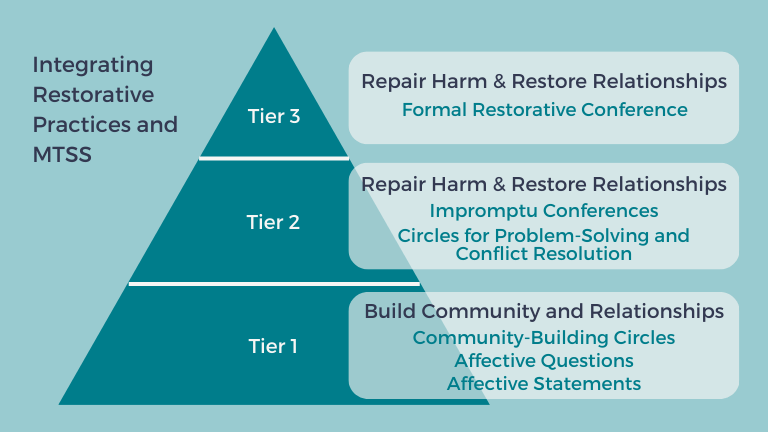 When certain behaviors or actions violate those shared values, restorative circles can involve the entire class to openly discuss these behaviors and how they affect the classroom community.
Students struggling with their behaviors might also benefit from more focused and strategic RP approaches. This is consistent with Tier 2 and 3 levels of support in MTSS. These students could meet in small groups to have their own restorative circles or discuss and reflect on decisions made in larger restorative conferences with the entire class.
It's essential that students who need additional support have time to reflect on their actions and how they impacted others. Then they can brainstorm the next steps for repairing damaged relationships and preventing these behaviors from occurring.
Finally, school leaders should continue to review student behavior and discipline data to help evaluate the effectiveness of RP for the entire school, specific grade levels, and individual students. Leaders can also use school climate surveys to assess students' connections to the core school and community values, their sense of belonging, and their relationships with other students and staff.
Next Steps
Here are some action steps to support the growth of Restorative Practices on your campus:
1. Talk with other educators about whether and how they use restorative practices in their classrooms. Include proactive activities weekly, such as circles to build relationships between students and teachers and students.
2. How can you interact with students differently? Which practices could you lead in your classroom? Include Affective Statements as a form of dialogue to decrease combative pieces and grow verbal affluence.
3. Ask other educators familiar with restorative practices to observe you in the classroom and offer feedback.
4. Seek out professional development opportunities focused on restorative practices.
Learn more behavior management tips at our 2023 BEHAVE! Conference
June 12th | Education Service Center Region 13