Principals and assistant principals have complex jobs that get more and more complex every year. On top of the challenges school leaders face on a daily basis, they've also been dealing with the difficulties of the lingering pandemic.
But we know that a school leader's impact is significant⏤ on building the professional capacity of others, strategic staffing, choice and access to high-quality instructional materials, internalizing a positive school culture, and amplifying effective instruction.
According to a major school leadership research synthesis from the Wallace Foundation, "Principals really matter…It is difficult to envision an investment with a higher ceiling on its potential return than a successful effort to improve principal leadership."
So let's dive into the impact of strong school leadership and some ways to develop a principal's learning.
The Foundation of Strong School Leadership
The Effective Schools Framework (ESF) articulates a clear vision for what districts and schools across Texas do to ensure an excellent education for all students. The ESF consists of a set of District Commitments and, for schools, Essential Actions.
The framework's core is effective instruction, with the interactions between students, teachers, and content determining learning outcomes. Then this instructional core is strengthened by strategic staffing, high-quality instructional materials and assessments, and positive school culture. But holding all of these levers together is strong school leadership and careful planning. Without this component, the framework would fall apart.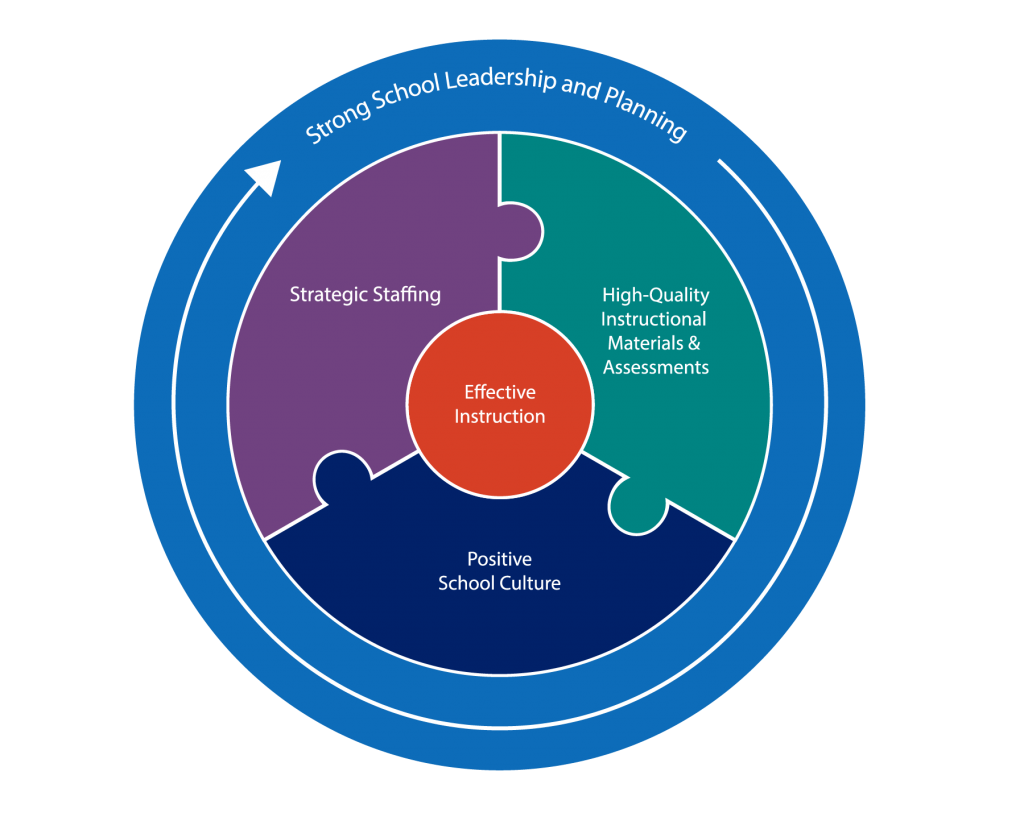 Furthermore, a campus instructional leader with a clear role and responsibilities can develop, implement, and monitor focused improvement plans that address the causes of low performance. This can dramatically impact student outcomes for years to come.
The ESF District Commitments also prioritize opportunities for ongoing support and coaching for the principal and assistant principal. This foundational Essential Action to develop campus instructional leaders illustrates the importance of strong leadership in supporting continuous improvement.
How to Develop A Leader's Effectiveness
As the Effective Schools Framework illustrates, practices must be in place to support a campus leader's professional development. With the many demands placed upon a school leader, principals need high-quality support and professional learning communities just like teachers. However, they have far less access to them. Professional learning for principals still tends to be episodic and lack coherence (Southern Regional Education Board, 2010; Louis, Leithwood, Wahlstrom, & Anderson, 2010)."
Like most adult learners, principals and assistant principals learn best in the context of their authentic work. It also helps when they set their own goals and the work matters to them. They learn even more with immediate application and intentional opportunities to reflect, revise and refine.
One of the ways to build capacity in this way is through mentorship or with Leadership Coaching. By developing a trusting relationship with an unbiased third party, the leader can think carefully about goals, clarify plans, navigate critical conversations, create action steps, and monitor their progress.
Finally, as Frederick Brown, the Chief Learning Officer at Learning Forward, shared, "Moving all principals to high levels of effectiveness will directly benefit student outcomes, especially at a time when students need all the support they can get." So by recognizing the importance of investing in campus leaders, schools and students will thrive!
Grow as a Campus Leader with Leadership Coaching!

Elizabeth Deterra is an Administrative Specialist for Leadership Support Systems here at ESC Region 13.