Everyone wants to do what's best for students. It can feel overwhelming to meet the training requirements for the gifted and talented program. However, these are in place to support you as you meet the needs of the highest learners in your classroom. Here are my 4 tips for GT training requirements and how to make meeting them a little easier for yourself.
Tip #1: Training vs. Certification
Teachers who work with GT students are required to participate in a 30-hour or five-day initial training. You do not have to take the state test for SBEC certification. These are two different things. Trust me when I say that attending the training is the easier route to take, and also meets the exact requirements of the law.
Tip #2: Keep Your Certificates
After your initial training, you should receive a certificate stating that you completed 30 hours of training. Please make sure to ask for a copy of that certificate and keep it in your files. This training can go with you from district to district throughout your entire career in education.
No one wants to complete a 30-hour training more than once just because you can't locate your certificate as proof of completion.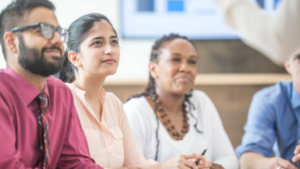 Tip #3: Ask Your District About Training Opportunities
Many districts offer teachers opportunities to complete the 30-hour training and required 6-hour training. Save money, rather than pay for training out of pocket. Always ask your district first to see what they offer and how you can participate. If you find outside opportunities, check with your campus to see if there is partial or full financial coverage before paying with your own money.
Tip #4: Tell Your Coordinator What You Want to Learn About
The state requires that gifted and talented teachers participate in a 6-hour annual training. Many districts set up training opportunities for staff related to topics that they think teachers are interested in. If you want to make sure that you attend training that relates to your needs, you have to tell your district what you want!
When you consider what you want, don't forget that training opportunities can come in a lot of different shapes and sizes, such as a book study or a GT community cohort. You could also get your update as you explore and plan using free resources in a collaborative setting. You can even attend a conference.
Having an open conversation with your district coordinator can result in your participation being more autonomous and relevant to the work you do with students. Hopefully, this makes meeting the GT training requirements an easier process.
More Opportunities
For opportunities to connect with other Gifted and Talented teachers, or to learn more about the training offered by ESC Region 13, visit our online course catalog. You can also check out the Gifted and Talented page on the ESC Region 13 website.
Be sure and sign up for the latest updates, workshop announcements, resources, tips, and more related to GT education here.
Amber Reinecke is the Cross-Curricular Systems Program Manager and Gifted and Talented (GT) Specialist at ESC Region 13. She has experience as an elementary classroom GT teacher, as well as six years of experience as a Gifted and Talented Pull-out Teacher and Instructional Coach. She has a passion for working with the gifted community in order to advocate for student needs.