There's not many jobs as difficult or rewarding as that of a principal. So we pulled together pieces of advice from some of our former principals at Region 13 to support those who are out leading our campuses.
1. Be Visible to Your Staff and Students
Krista Peake, a former elementary principal, suggests, "Be visible! In order to keep a good pulse on your community, make time to be in classrooms and in the hallway. There will be lots of paperwork and learning to do as a principal, but the time spent being visible to your staff and students will reap the benefits. Never lose sight of why you went into education. Your daily interactions will be the best reminder."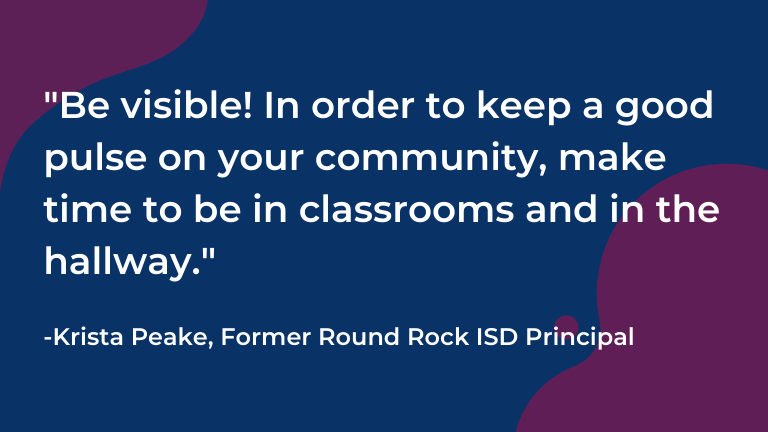 2. Listen More Than You Talk
Keith Thompson, a project coordinator for the Center for Effective Schools, says, "My one piece of advice for new principals would be to listen more than you talk. As a new principal, you will not have all of the answers, so you will need to rely on the expertise (staff) that is already on your campus as you continue to grow your skills."
3. Create and Set Campus Norms
Anna Warren, an associate director here at Region 13 and campus administrator of 13 years, advises, "Set norms for the school-and speak them continually! Involve everyone-parents, students, teachers, and auxiliary staff in norm setting and norm discussion. Live them, speak them, and model the norms. You will see that others strive to do the same."
4. Be Responsive in Your Communication
John Andrews, a veteran principal of 10 years, suggests, "Be responsive when it comes to returning phone calls and replying to email. Give yourself a 24-hour window and stick to it. Also, when making decisions, always consider your students and put their best interests first. After all, that is who you are there for, the kids."
5. Think of Changes with a Long Term Mindset
Adrienne King, a former principal, notes, "Do not try to do all things at once. Identify your strengths and areas of needs by observing, asking your staff and by the data. Implement foundational, sustainable systems for the long term."
6. Take Care of Yourself
Kendra Monk, a specialist on Region 13's School Improvement Team, says, "In the midst of taking care of everybody at your school, don't forget to intentionally schedule time to take care of yourself. If you are not able to work at full energy due to overworking, you could be hurting both yourself and your campus! Building capacity in other leaders on campus as well as purposefully delegating tasks will ensure that you are able to put time for YOU on the calendar!"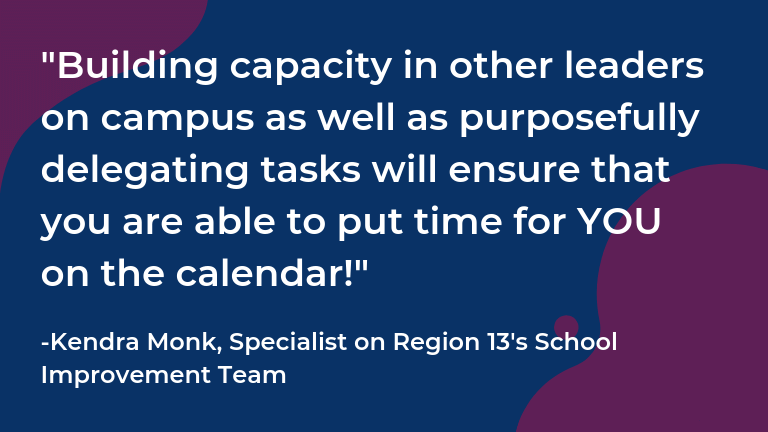 7. Look for Mentorship Opportunities
Sarah Reuwsaat, a former principal, encourages you to, "Find one or two principal mentors you feel comfortable asking for help and ask away! Having someone to bounce ideas off of can make a big difference in your decisions."
To connect with other principals in our region, join our Principal to Principal Network!
Kallie Koumalats is a former elementary and middle school teacher. Currently, she is a Digital Marketing Specialist here at Region 13.