The guru of organizing, Marie Kondo, took America by storm when she came out with her Netflix series Tidying Up with Marie Kondo. Her "KonMari Method" of simplifying and organizing had people reevaluating items in their household to see if it "sparked joy" or if it was unneeded clutter. These basic principles aren't just for home organization. They can also be applied in the classroom to promote a positive environment for all.
Best Practices?
One of the best things about being a teacher, but also one of the hardest, is adapting to the changing educational field. Student needs vary every year, so the methods teachers use must adjust to meet those needs.
Education Research show that former "best practices" don't always stand the test of time. Great teachers recognize these changes and adjust their existing classroom framework. Why then, do so many teachers keep outdated resources that take up precious space in their classroom?
The Fear of "One Day"
Many teachers hold on to items out of fear. They worry that they must keep all of their previous lesson materials and unnecessary school supplies, just in case they need it "one day". This day rarely comes, so teachers are left with filing cabinets filled to the brim and closets overflowing.
Teachers could save so much time by limiting and organizing their resources. It is important to balance holding on to items of value and keeping every single thing they have used in the past. Quality over quantity in the classroom is the key.
Cut the Physical and Virtual Clutter
When you are ready to make the leap into an organized classroom, start by minimizing the amount of items you have.
Cut down on unnecessary clutter in your filing cabinets. Look at each resource and think about how it worked in your classroom. If it was an all-star lesson that your students enjoyed, then keep one copy of it.
Once you have filtered through every paper and kept only the best resources, then begin to organize them into specific skills sets or by yearly unit. This will make searching for lessons a much more manageable task.
Also, minimize the amount of posters, supplies, and decorations that you have in your classroom. Only keep items that "spark joy" or that are necessary to running your classroom.
Consider giving gently-used items to new teachers. You can also see if your school or district has a communal spot to donate resources. If not, host your own garage sale or drop it off at a local Goodwill. Items that are completely outdated or not in good quality can be recycled or disposed of.
Also, make sure to clean out your Google Docs or other computer files at least twice a year. Delete content that is outdated or only relevant to a specific school year. Then, create a virtual filing system by organizing the appropriate documents into specifically named folders in Google Drive or Microsoft Word.
Label and Contain Items
Another way to create an organized classroom is to make sure that your storage closet has extra supplies separated into categories. For example, having labeled bins for pencils, dry erase markers, and crayons can quickly cut down on search time and keep you from cramming items into random places.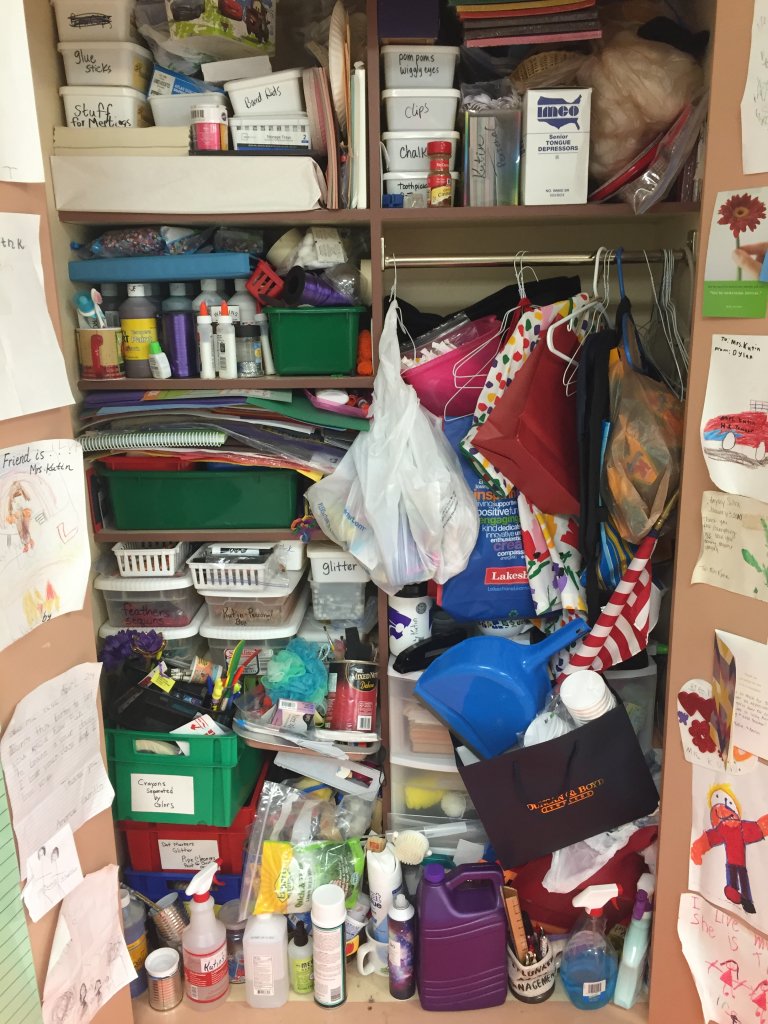 A wonderful trick for keeping construction paper organized is to arrange the paper in vertical filing organizers. For an added bonus, sort the paper by color. It looks great and makes searching for paper a breeze.
Also, make sure every item is easily accessible. Don't put items far behind each other or pushed into a hard to reach corner. Chances are that you will completely forget about the item, or you will be frustrated in the time-consuming search.

An Organized Classroom is a Happy Classroom
It can be hard to part with school-related items. Most teachers have to pay for their own supplies, so it can be difficult to let go.
But just like too much clutter in your house can cause unnecessary stress, too much clutter in your classroom can have a negative effect on you and your students.
Share your photos of your organized classroom with us for a chance to be featured on our social media channels!
Kallie Koumalats is a former elementary and middle school teacher. Currently, she is a Digital Marketing Specialist here at Region 13.