Now that school is over for the year, what are some ways to keep our students enriched and still learning during the summer break? What are some activities that do not involve digital screen use? Below are a few enrichment activities that can be a starting point to have students try during the summer break!
Board Games
Encourage board games that have math and reading as their focus. You will want to find games that foster mathematical thinking such as Monopoly for older students or Connect 4 for younger students. Scrabble would also be a great choice to support reading for all students! Some neighborhoods also host "board game swaps" so check in with a neighbor to see if they would be open to exchanging games over the break.
Walks Outside
Take walks outside to encourage a love of the outdoors. This enrichment activity can be as simple as going for a walk around your neighborhood or heading to a local park. Students can take pictures of different natural elements they find and keep a journal of their discoveries. They can even look for wildlife! This is also a perfect time to talk to students about how they are feeling and start guiding conversations.
Writing
Students can keep a journal over the summer break and write about anything they are feeling. They can even create short stories or poems. Encourage creativity! If students are hesitant to begin writing, drawing and sketching are also great ways to use their imagination.
Reading
Most local libraries have reopened for visitors, so take advantage of this free activity on hot summer days. Students can spend time browsing the aisles for their perfect find, and many libraries have summer reading programs that they can participate in. This free community resource often goes unnoticed this time of year, but libraries are a great way to let your students try out new reading interests without investing a lot of money!
If you need a place to start, check out the Texas Library Association's reading list page. It's a great resource for finding high-quality and age appropriate reading materials for your student, no matter their interest level.
Scavenger Hunts
A unique enrichment activity to get students moving is scavenger hunts! If you Google or look on Pinterest for "Kids scavenger hunts," you will find many great ideas and suggestions. There can be themed scavenger hunts and then more basic types, too. These are also easy ways to build a mindfulness practice with your students. The skill of slowing down to notice what's around you and pick out a specific item is one that will serve students for years to come.
Pantry Sort
This enrichment activity is great for students of all ages! If you have older students, give them the task to go through the pantry and sort out all the expired items. They can also re-organize the pantry by types of food, colors, or any other way that makes sense to them. Younger students can also get in on a pantry sort by helping move items and organize them with you. You may even be surprised at what meals you can make together with what you already have!
Cooking and Preparing Food
We've written before about how cooking and preparing food can be a great engagement activity for preschool-aged kids, but its value extends to older students as well. Helping out in the kitchen helps build fine motor skills, cognitive, and social skills.

Use cooking as an opportunity to explore new cultures and cuisines with your student. Start by having them research different types of dishes they've had before or new ones they've never tried. Challenge them to find the necessary ingredients and learn more about the origins of dishes that are brand new to them. Younger students can help read the instructions and measure out different ingredients.
Then invite them to help you make the dishes, or prepare them on their own. Even if they're not ready to launch into a new career as a chef, cooking food together forms social bonds and helps pass on traditions. There's also the added bonus of getting to eat what's made later!
Hand-Crafted Cards
Who doesn't love getting a hand-created card in the mail? One group that can always use encouragement is older community members in care homes. Do a quick Google search to see what care homes are near you, get some basic art supplies together (literally paper and markers⏤maybe glue and glitter if you're feeling adventurous!), and let your student's creativity take charge.
If you can, take your student with you to drop off cards of encouragement or walk to the mailbox to mail the cards. When we can give students ownership of small tasks, that increases their overall confidence and leadership skills.
Singing Songs
For those with younger students, singing songs is a fun and engaging way to enrich their summer. Singing and dancing are really fun, plus neurobiologists have found that music activities literally mold the mind by engaging brain synapses. Pretty cool, right? Whether or not a child is able to sing along or do all of the movements, music is powerful!
There are so many skills that children can develop through singing including motor skills, shapes and colors, letters and vocabulary, and more! A good thing to remember is that when children are young, participation in singing can look many different ways. Some children might dive right in with singing and moving and others might start out as "watchers." It's all good! Adding props, like a wooden spoon for a microphone, or homemade instruments like paper plate shakers can help children feel more included if they're not ready or able to sing and move.
Finally, the more engaged we keep our students, the more ready they will be for the next school year. Allowing them quiet downtime and a slowed-down pace encourages them to process all that has gone on and gives their brains time to rest and recover from navigating many changes. Every educator would tell parents and caregivers that quality time together is one of the best ways to keep students engaged. Let your students pick 2-3 of these enrichment activities and see what happens!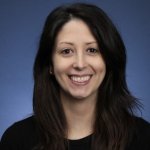 Stephanie is a project specialist on the Counseling Services team here at the Education Service Center Region 13.