In this episode of "I've Tried Everything" specialists Angela Isenberg and Melinda Marquez discuss the differences between classroom interventions and classroom consequences.
Download a full copy of this episodes' transcript
Angela Isenberg:
Welcome to I've Tried Everything, a podcast series focusing on behavior support in schools. I'm your host, Angela Eisenberg. Our special guest for the series is Melinda Marquez.
Melinda Marquez:
Hi, I am the coordinator for school improvement and accountability here at Region 13.
Angela Isenberg:
Today we're going to be talking about classroom interventions versus consequences. When you think about the difference between a consequence and an intervention, a consequence is a one and done. You provide a consequence, you're expecting that behavior to stop. An intervention is something that you would try over time.
Angela Isenberg:
I went to a campus and working with a teacher, it was probably about four weeks into the school year and she said, "I've tried everything, I've tried everything."
Angela Isenberg:
And I said, "Okay. Let's list all the things that you tried."
Angela Isenberg:
She had a good list of stuff that she had been working with, classroom contract, preferential seating. She did quite a few different things and so then I asked her, "How long did you try that?"
Angela Isenberg:
And she was like, "I tried it for one day and it didn't work. It didn't stop."
Angela Isenberg:
And I think that's the challenge that a lot of educators have is that they expect immediate elimination of the behavior when they've tried an intervention. The best way that I can equate this, Melinda, is thinking about going to the gym. Do you lose your desired weight the first time you go to the gym?
Melinda Marquez:
No.
Angela Isenberg:
Don't you wish that you losed to your desired weight the first time you went to the gym or you had the exact tone of your muscles that you wanted the first time you went to the gym? We expect that results for behavior, right? We expect immediate elimination. Just like if it doesn't happen when we go to the gym, we should not expect for it to happen when we go into the classroom, we shouldn't expect it to do at once and it just be perfect.
Angela Isenberg:
When we think about routines, have you ever seen any self-help material that says you should try this for how many days before it becomes a part of your routine? Anything that you ever read about self-help or like 14 days to make a habit? Seven days.
Melinda Marquez:
There are so many times that you have to put something into place before it becomes a habit or a routine.
Angela Isenberg:
Yeah. And the standard that we see as 21 days.
Melinda Marquez:
Oh, I was off. Okay, 21 days. Yeah.
Angela Isenberg:
But that's all right. 21 days, three weeks. You can kind of start getting into it after a week, but you're like, "Okay, but can I keep going?"
Melinda Marquez:
Mm-hmm (affirmative)
Angela Isenberg:
By the time you hit about three weeks, it becomes a part of your routine and procedure. So when I think about interventions in the classroom, you think about you have to sustain them over time. What are some interventions that you guys did on your campus and the classroom, tier one interventions that classroom teachers utilized on your campus?
Melinda Marquez:
We've talked about this a little bit, but those building relationships, building community within the classroom, we did have behavior contracts. We use preferential seating, we use proximity. So some of those pieces we were able to implement campus-wide.
Angela Isenberg:
Yeah. And I think some of the, the newer ones out there that I see a lot of people putting into place is a calming area in the classroom. A place where students can go take a break. Sometimes you could look at that as a classroom management technique, but if you're utilizing it for one specific student to go to the calming area, when they start getting upset or getting anxious over the material. And they're utilizing it as a way of ongoing support, that's an intervention. That's when we're looking at, hey, we're seeing is utilizing the calming area, decreasing the behavior that that student is having. Whenever they feel anxious about the academic work or whatever that's leading to that behavior.
Learn more behavior management tips at our 2023 BEHAVE! Conference
June 12th | Education Service Center Region 13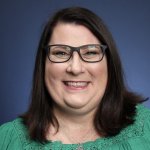 Angela has 24 years of experience in education. She has been in her current position for 12 years. Angela has trained and provided coaching support to over 200 campuses for PBIS. She is also a certified Restorative Practices coordinator. She is a trainer for Interventions, Coaching Classroom Management, CHAMPS, and Why Try.