1. Understand and Identify the Student's Positive Reinforcers
Every teacher knows that each and every student in their class is unique. Each student has a different upbringing, has different cultural values, obsessions, likes, and dislikes. The same principle can be applied to students with challenging behavior.
While one of your students might be positively reinforced by affirming words from the teacher, another student might not care about affirming words at all. That's why it's always important to understand your students' unique positive reinforcers. By identifying these key reinforcers you can start applying them when the challenging student does something right. By applying the right positive reinforcers to your student, you'll have an easier job teaching them what good behavior looks like.
2. Use a Visual Schedule
Regardless of our level of functioning, we all crave some form of structure, order, and routine in our daily lives. By creating a schedule that's visual, you help your students plan and order their daily lives, minimizing moments for distraction or off-task behaviors.
3. Use Physical Structure
When designing your room you should make sure that the room is comprehensible. This means that when a student walks into your room they should know exactly where they would go to have snack time or group time or small group time or one-on-one time. The goal is to give students a comprehensive understanding of their surrounding environment and a structure to how they should operate while in the classroom.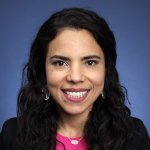 Erika Pozo is an education specialists working for the Early Childhood Team at ESC Region 13.