One of the biggest challenges that teachers and administrators face is classroom behavior. And things have definitely not gotten easier since COVID irreparably changed the educational landscape. That's why we created season 2 of I've Tried Everything, our podcast that provides research and support for your biggest behavior concerns in schools.
This season, we're digging into new behavioral challenges educators face on campus. With episodes on everything from addressing the staff shortage to how academics and behavior go hand in hand, we've got something for everybody. Let's take a look at the new episodes:
Episode 1: Tips and Takeaways for Being Trauma-Informed
There are a significant number of students in our classrooms that struggle with childhood trauma. We must be able to navigate this reality. In our first episode, we speak with Monica Kurtz about creating a trauma-informed student environment.
Episode 2: The Importance of Relationships
New and veteran teachers alike must find the balance between setting boundaries and supporting students. Building relationships is one of the best ways to find that balance. In this episode, we talk with William Treadwell, a new teacher from Deer Park Middle School in Round Rock ISD, about the power of a name, behavioral challenges due to the pandemic, teaching behavior expectations, and more!
Episode 3: Academics and Behavior Go Hand in Hand
To teach the whole child, it isn't a matter of just addressing their behavior or solely focusing on academics. Instead, it is about finding a way to blend them to set the student up for success. Join us as we talk to our Deputy Executive Director of Academic Services, Kerry Gain, about creating a continuum of services.
Episode 4: Navigating Education as a New Teacher
You've probably heard the statistic that 44% of teachers quit within the first 5 years on the job. Being a teacher is challenging, especially if you're new to the profession. However, relying on support and resources from other teachers who have walked in your shoes can make all the difference. In this episode, Brittany Harley, a new teacher at Taylor ISD, talks about her transition from ESC Region 13's Educator Certification Program to the classroom and all the lessons she's learned along the way.
Episode 5: It's a Skill, Not a Will
Many educators have seen a shift in behavior and a rise in extreme behavioral challenges following the pandemic. Knowing how to address this situation to produce positive outcomes can feel overwhelming. But as Dr. Stuart Ablon has said, "We are all able to change…as long as we realize that behavior is a matter of skill, not will." In this episode, we speak with Albert Felts, Associate Director of Student Support Services, about what he feels is our last real hope in addressing student behavior in schools.
Episode 6: Addressing the Staff Shortage
The nationwide teacher shortage poses a significant threat to our educational system. Although there are no easy answers, Whitney Brown, the Special Programs Coordinator for Smithville ISD, joins us to give some suggestions and insight into the issue. She also shares how behavior has changed in the past 20 years and how that impacts our classroom structures.
Episode 7: Preparing Staff for the New Challenges with Behavior
With the new behavioral challenges in our schools, we are seeing a greater need for behavior knowledge and skills from teachers, principals, and even our superintendents. Join us as we speak with Keith Thompson, our Director of Leadership Initiatives and Supports, about how his teams prepare new staff for the increased concerns they face.
We hope this podcast equips and inspires you to enact meaningful changes on your campus. Check back for even more episodes on hard-hitting topics in the future!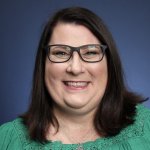 Angela has 24 years of experience in education. She has been in her current position for 12 years. Angela has trained and provided coaching support to over 200 campuses for PBIS. She is also a certified Restorative Practices coordinator. She is a trainer for Interventions, Coaching Classroom Management, CHAMPS, and Why Try.